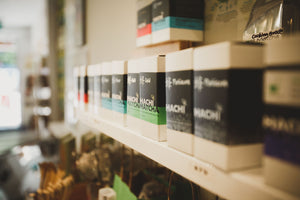 I am often asked why are there subtle flavour differences within the same brand of matcha? The short answer is when, where and how a tea plant is harvested will affect its colour, potency and flavour. There's also another factor, one that is often overlooked but responsible for the teas quality and taste, and that would be - the tea cultivar. A cultivar is a cultivated variety, which is a fancy way of saying selected and bred by humans. In Japan, many tea cultivars are grown to produce matcha. To preserve the desired qualities of the cultivar and to prevent...
---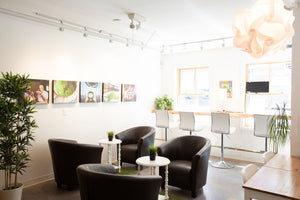 I'm super excited to celebrate 8 years in business as of October 7, 2021! It's been one heck of a wild ride and continues to be enjoyable year after year. It feels just like yesterday when I was peeling the brown paper from our windows to show off our new business to the world. Ok, a bit of an exaggeration, to the fine folks on Oak Bay Avenue. Despite having to close down our first location during the pandemic, we continue to keep our heads up and move forward with our second location at 544 Pandora Avenue. Our business would...
---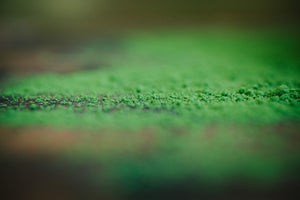 Matcha is very delicate stuff. Remember the movie, Gremlins? It's pretty similar. It doesn't like heat, air, moisture or light (and definitely don't feed it past midnight!) Once the tencha leaves are ground, the clock starts ticking. Matcha lasts about one year on the shelf. If you have matcha that has 'expired' I would recommend baking with it or making a delicious smoothie with it. Matcha doesn't really go bad but it will oxidize over time. Once matcha is opened, it really should be used up within three or four weeks — or, if you really want to push it,...
---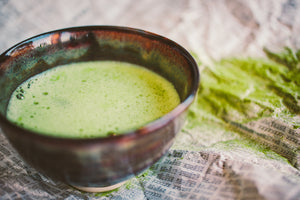 The idea is taken from Dave Asprey, who in the last few years, has popularized his invention of 'Bulletproof Coffee'. Bulletproof coffee is brewed black coffee with large amounts of healthy fats from the addition of MCT-Oil (or coconut oil) and unsalted grass fed butter. The idea behind the butter and MCT oil is that most of our diets are lacking in healthy fats, that adding them to your morning coffee lets you feel energized, satiated, without the caffeine crash from regular coffee (much like matcha) and no blood sugar highs and lows from the usual sugar-filled breakfast foods. Check out...
---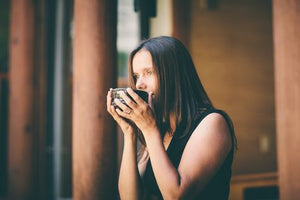 Each year, at the beginning of May, anticipation builds for the arrival of my favourite tea, Hachi Matcha Shincha. Why do I get so excited? Shincha is the first picked tea of the year, also known as the ichibancha. Similar to the Beaujolais Nouveau of French wine, the name Shincha celebrates the first tea harvest of the year. Traditionally Matcha is not ground immediately after harvest; instead, it is "rested" for a period of many months to mature the flavour. In the spring, the tea leaves are flooded with sunshine. Matcha is shade grown for 20 to 30 days before...