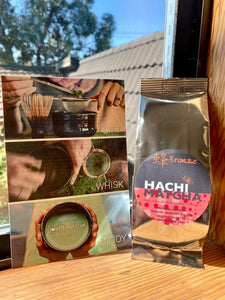 JustMatcha.com
Hachi Matcha Bronze 100g Bag
Regular price
$56.00
$0.00
Unit price
per
Hachi Bronze is an everyday drinking matcha. Perfect for those new to the art of matcha drinking or those who drink it quite often and prefer a high quality matcha.
Region: Uji, Kyoto, Japan
Cultivar: 100% Yabukita
Matcha is green tea that has been shade-grown, de-veined, de-stemmed and ground into a very fine powder. Matcha isn't steeped, it's "eaten." One serving is equivalent to 10 servings of green tea in terms of nutritional value and antioxidant content. Matcha's unique combination of amino acids and caffeine creates a lasting feeling of focused vitality. Perfect for work, play, exercise or meditation. 
Preparation of Traditional Matcha: Sift 1/2-1 teaspoon of Bronze Hachi Matcha into a small bowl. Add 2-4 ounces of 70-80 degree Celsius water (boiling water will compromise taste and nutritional content). Whisk vigorously using a traditional bamboo whisk or a frother for 15 seconds or until creamy. Enjoy your perfect cup of matcha!
Preparation of 8 ounce Matcha Latte: Whisk 1 teaspoon of sifted matcha with 1 ounce 80 degree Celsius water. Add steamed milk and enjoy.
Storage: Keep away from heat, light, air, moisture and strong odours. Once opened, use as soon as possible. 
Mild flavor
I like the milder flavor not bitter. Enjoyable
Very nice sweet Matcha
I'm a Matcha newbie and really enjoying the Bronze. The first thing the flavor reminded me of was sweet green peas. No bitterness, very drinkable. And no caffeine jolt - I don't drink coffee because I hate the caffeine buzz, and this tea has none of it. Very Zen. :)
I like the 100 g option; it removes the "range anxiety" I had with the 30 g package. How long will it last? When will I run out? How many delicious lattes do I have left? Do I dare offer some to company? WHAT IF I HAVE TO GO WITHOUT FOR A MORNING??? Horrors.
One suggestion: Maybe add "approximate servings" to the descriptions of each tea or as a header on the pages or somewhere else easy to find, like "30 grams is approximately (X) 1/2 tsp servings" so buyers can conduct themselves accordingly for hoarding, rationing, stashing, hiding, or reordering purposes. (Who am I kidding - it's 1 tsp servings all the way.)
---