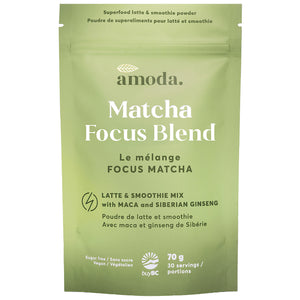 JustMatcha.com
Amoda Tea - Matcha Focus (Activate) Blend
Regular price
$24.00
$0.00
Unit price
per
70g | 2.47oz | 30 servings per pouch  
Serving size: 1 tsp
This rejuvenating powder blend of matcha, maca, eleuthero (siberian ginseng), green tea pollen, spirulina and vanilla will keep you grounded while boosting your energy and focus. Matcha Activate is your easy, delicious solution to owning your day without coffee. Organic matcha boosted with adaptogens and nourishing herbs helps you experience a calm, focused energy so you can stay sharp all day without jitters or a crash.
Activate is the perfect alternative to coffee to support your liver during seasonal shifts or anytime of year. It activates your metabolism while gently cleansing and nourishing from the inside. The taste is matcha forward with creamy and sweet layers. What you're getting is the calm energy of matcha, the increased mental clarity and stress supporting power of eleuthero, fatigue-fighting benefits of maca, the deep nutrition and anti-aging benefits of green tea pollen, the detoxifying and nourishment of spirulina and the grounding pleasant taste of vanilla.
Formulated with Vivien Hsiung R.Ac
All Organic Ingredients: matcha, gelatinized maca, eleuthero (siberian ginseng), green tea pollen, spirulina, vanilla.
1 tbsp hemp seeds + 10oz hot water (or 10oz of your fave nut milk)
A little sweetener, if you like.
Blend on high for 30 seconds.
Add all to a mason jar and shake until all the clumps are gone.
---