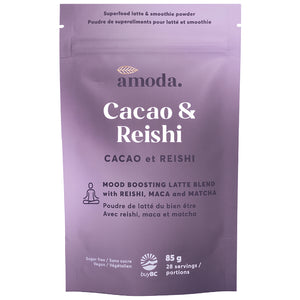 JustMatcha.com
Amoda Cacao & Reishi (Matcha Bliss)
Regular price
$23.00
$0.00
Unit price
per
Cacao & Reishi is an uplifting blend of cacao, reishi, maca and matcha for mood-boosting and adaptogenic support. Enjoy a calm, focused energy and balanced mood that helps you live every day to the fullest. A blissful matcha hot chocolate with an earthy indulgence and a cinnamon kick. 
Delicious mixed into nut milk lattes, smoothies or wellness elixirs. For a luxurious latte, try one sachet blended with oat milk and cacao butter.
Recommended serving - 1 teaspoon. Each serving is just over 1/3 cacao and provides you with 1000 mg of reishi, 1000 mg of maca and 1/4 tsp (500 mg) of matcha!

All organic ingredients: raw cacao, gelatinized maca, micronized reishi, matcha, true cinnamon, pink himalayan salt.
Cacao is a natural mood elevator, high in antioxidants, nutrient dense containing minerals such as magnesium, iron, calcium and zinc.

Reishi and maca are adaptogens - they adapt to your body's particular needs to protect against the harmful effects of stress.

Reishi helps you calm your mind, nourish your spirit and react better to emotional stress.

Maca is mood-boosting and provides an even and sustained energy boost without caffeine. Maca has been said to act as an aphrodisiac and hormone balancer.

Matcha provides an energy boost with no jitters or crash. L-theanine in matcha stimulates the production of alpha waves in the brain leading to increased concentration and that sought after calm alertness.
We use gelatinized maca, which has been heated to remove the starch content, making it more digestible (perfect for sensitive stomachs). 
Recipe:
1 teaspoon Cacao & Reishi Blend 
8 oz oat milk
2 oz hot water
2 tsp of cacao butter
splash of maple syrup
Blend for 45 seconds
---